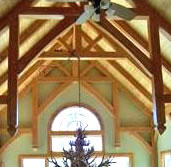 Located in Western Montana, Industrial Lumber Sales has been a strong force in the wholesale lumber industry for years and has expanded its operations to provide quality logs, timbers, and siding to its domestic and international customers from its Wholesale Log Division.

We place a high priority on defining and understanding exactly what our clients' needs are and how best we can help them achieve their objective growth goals.
Wholesale timber sales.The Wholesale Log Division of Industrial Lumber is a customer-service business offering milled logs, including full-round, Swedish-cope, d-log, and dovetail-cut; raw logs; dimensional timbers; and log siding; custom cut into various product configurations to meet your residential, commercial, or industrial needs.
While material demands vary in size, scope and quantity, the common thread is our commitment to provide value to our client without sacrificing quality. Meeting our clients' functional and economical goals is our first priority. By purchasing wholesale direct from us, our clients save money.
Industrial Lumber utilizes one of the most sophisticated computer systems for the in-house coordination of each individual order acknowledgment, transportation routing, and invoicing. The firm's extensive use of this state-of-the-art technology gives Industrial Lumber staff the freedom to focus on creative ways to improve the efficiency and economy of the end product to our clients.