Wholesale Logs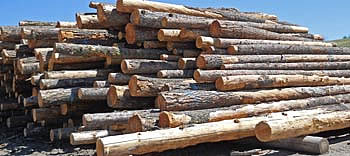 The Wholesale Log Division of
Industrial Lumber Sales provides premium raw and machine milled logs; harvested from dead-standing Douglas Fir, Lodgepole Pine, and Spruce; for log homes, log cabins, and other log structures and applications at wholesale pricing.
Logs are available as:
Full-round, raw
Full-round, machine-milled
Swedish-cope, machine-milled
D-log, machine-milled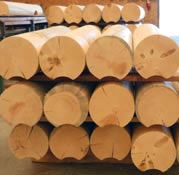 Swedish-coped logs for sale
- machine milled and crafted.D-logs for sale.Our logs can provide a Timber Products Inspection (TPI) certification for a moisture content of 19% or less.
We have the most advanced and efficient log processing mill in the world. Machine-crafted logs are uniform in size with a smooth surface and can be either full round or Swedish cope.
We can also add saddle-notched or dovetail corners to your specifications.
The Wholesale Log Division of Industrial Lumber Sales can provide house logs for an entire structure or for adding log accents and components to any home or commercial building.
Our logs have a moisture content of 18% or less. Timber Products Inspection (TPI) certification is available. Pricing is based on random length tallies (8' - 20').