Dovetail Log Siding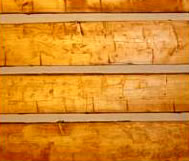 10/17/2010
Dovetail Log Siding, when used on standard stick frame construction, gives your home an old frontier appeal. Dovetail siding is available in adzed, circle-sawn, or planed surfaces.

Historical Log Siding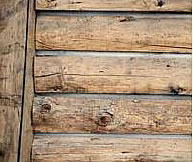 10/17/2010
Historical Log Siding is finished to allow the wood to look much like it did in the forest with hues of brown, gray and gold. When applied to a 2" x 6" frame sub-structure, this siding recreates the look of an aged log lodge.

Stock Farm Siding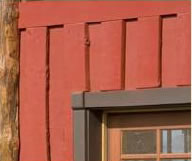 10/17/2010
Stock Farm Log Siding; our sawn, bark-edged and planed one-side siding; will give your building an antique look when you add it to your walls and gables.

Half Log Siding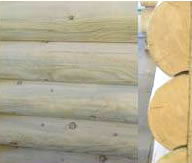 10/16/2010
Half-Log Siding gives you the true, log-home look at a fraction of the cost, regardless of the style, size or location of your home. This also gives homeowners design options for conventional interior walls. Half-Log Siding can be applied to your new or existing home for a truly magnificent look.